Description
MaxFlo 400 – Decroative Epoxy floor system
MaxFlo 400 – Decorative floor system is an epoxy-based solvent free floor coating designed to be used with the addition of coloured quartz aggregates.
Once cured the system gives a bright, light stable, slip-resistant finish that is hard wearing and easy to clean.
Once cured the product provides following characteristics:
Range of colours
Excellent adhesion
Chemical attack
Anti-slip
Hygienic and easily cleaned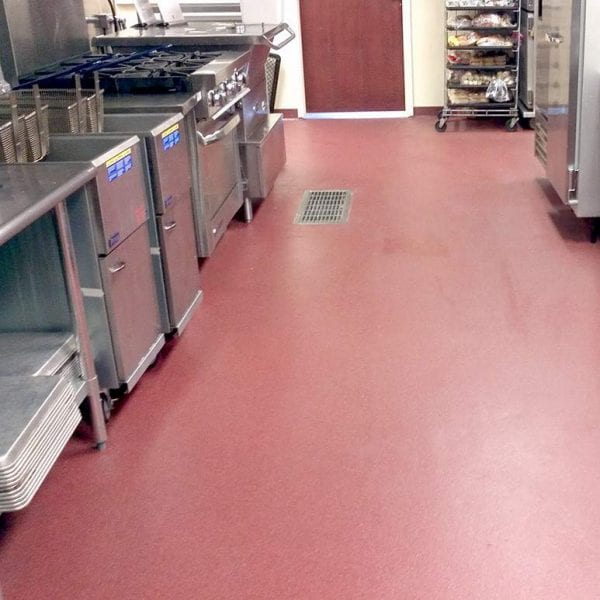 Protects
Applications
Features
Benefits
Warehouse Flooring
Laboratories
Chemical areas
Washrooms and shower blocks
Food preparation areas
Solvent-free
100% Solids material
Chemical resistance
Excellent wear characteristic
Easy mix formulation
Safe to use in a confined space
No coating shrinkage or cracking
Resists wide range of chemicals
Protects for longer
Aids application on site
Application Guide
Technical Data
Application Guide
METHOD
Prepare the surface
Mix the material
Apply the rein at the required thickness
Broadcast the aggreagate
Allow for curing
Remove excess aggregate
Apply resin seal coat
SURFACE PREPARATION CONCRETE
Concrete shall be a minimum of 21 days old and/or the residual moisture content shall be below 6%. Ensure that the concrete is clean and free from dust, laitance, grease, oil, curing compound and existing paint finishes etc. Blow holes and defective concrete shall be made good using a proprietary repair compound, e.g. MaxCrete 200 concrete
Suitable mechanical treatment such as vacuum grit blasting is the preferred treatment before application as this ensures a mechanical 'key' for the coating.
MIXING
Mixing should be with a low-speed paddle mixer. Pour the contents of the activator container into the base container and thoroughly mix until the resin goes clear, Once mixed, pour the contents of the container into a paint tray. Roller coat the material onto the primed surface using a short/ medium pile roller. Mixing should be with a low-speed paddle mixer.
APPLICATION
Apply the material at a wet film thickness of 500 microns. While the resin system is still wet broadcast the coloured quartz aggregate onto the surface of the resin and ensure that all of the resin surface is fully blinded, you will need between 3-4kg of coloured aggregate per m² .
Allow the aggregate to settle for 4-5 minutes and ensure that there are no ponded areas of resin showing through the surface of the aggregate. If any resin is showing on the surface, broadcast more aggregate onto these areas. Once finished ensure that the floor has a uniform layer of dry aggregate sitting on top of the resin surface.
Leave to cure for 6-8 hours at 20°C. Once the surface has dried, sweep or vacuum all of the excess quartz aggregate form the surface, before sealing.
COVERAGE
USABLE LIFE AT 20°C
45 minutes
OVER-COATING TIMES
Minimum – as soon as it is touch dry.
Maximum – over-coating time 36 hours.
Where the maximum over-coating time is passed, the material should be allowed to harden before being abraded, or flash blasted to remove any surface contamination
Technical Data
[table "20" not found /]