Drinking Water Tanks, Wear Protection
MLI 100 – Flexible water tank lining
£37.00 – £71.00 Excl VAT
Maxline 100 flexible lining and coating for water tanks, is a WRAS approved solvent-free polyurethane coating for water tanks. Specifically designed for re-lining potable and drinking water tanks and provides excellent protection against erosion and corrosion.
Description
MaxLine 100 - potable water coating
Is a WRAS approved solvent-free polyurethane coating system. Specifically designed for relining potable and drinking water tanks and provides excellent protection against erosion and corrosion.
Once cured the product is extremely flexible and will breathe with the tank as it cycles from full to empty without any risk of cracking.  
Maxline 100 will have a design life in excess of 10 years. We offer a full application service through our network of approved 3rd party contractors, please do not hesitate to contact us for further details.
Drinking water tanks
GRP Water Tanks
Sectional steel tanks
Galvanised potable water tanks
Concrete water tanks
Braithwaite Tanks
Potable water tanks
Pipelines
Cooling towers
Lining of drinking water tanks
Lining of pipelines
Coating for cooling towers
Lining for Pumps
Solvent-free
100% Solids material 
Chemical resistance
Excellent wear characteristic
Corrosion resistance
Two colour system
Easy mix formulation
Safe to use in a confined space
No shrinkage or cracking
Resists wide range of chemicals
Protects for longer
long-term 
Helps to monitor coating wear
Aids application on site
APPLICATION GUIDE
MAXLINE 100 – POTABLE WATER COATING
Description

                       

MAXLINE 100 –  POTABLE WATER COATING is a high build solvent free urethane anti-corrosive coating designed for the efficient long-term protection of water tanks,pipelines, pipe fittings and equipment. MAXLINE 100 – POTABLE WATER COATING also meets the requirements of BS 6920:1990 as required by the Water Research Centre
Applications

Pipelines
Potable Water Tanks
Effluent Systems
Pumps & Valves
Surface Preparation

Steel

All oil and grease must be removed from the surface of the repair using an appropriate cleaner such as MEK or similar solvent. For optimum performance, the surface should be grit-blasted to ISO 8501/4 Standard SA2.5 (SSPC SP10/ NACE 2) and a minimum blast profile of 75 microns using an angular abrasive.

Once blast cleaned, the surface must be degreased and cleaned using MEK or similar solvent. All surfaces must be repaired before gingering or oxidation occurs

Where abrasive blast cleaning is not possible (excluding salt contaminated surfaces) the surface should be roughened by, needle gun or grinding. Under these conditions' adhesion levels will not be optimal although still satisfactory for most applications.
Surface Preparation

Salts

For salt contaminated surfaces the area must be grit-blast cleaned as mentioned above and left for 24 hours to allow any ingrained salts to come to the surface.

After this 24-hour period the surface must be washed with MEK prior to brush blasting to remove the surface salts. This process must be repeated until all ingrained contaminants have been sweated out of the surface.
Surface Preparation

Concrete

Remove any contamination and lightly abrasive blast or scarify taking care not to expose the aggregate before application of MAXLINE 100 – POTABLE WATER COATING. Allow new concrete to cure for a minimum of 21 days and likewise treat to remove any surface laitance before coating.
Surface Priming

Concrete

For optimum results on damp concrete, prime the concrete with MAXPRIME 200 – CONCRETE SURFACE PRIMER

Where the concrete is dry but highly porous, it is recommended to condition with MAXPRIME 100 – CONCRETE SURFACE PRIMER
Mixing

Warm the Base component to 15-25°C before mixing and do not apply when the ambient or substrate temperature is below 5°C or less than 3°C above the dew point

Transfer the contents of the Activator container into the Base unit mixing thoroughly to ensure that the material is homogeneous and free of any streaks.

From the commencement of mixing all the material should be used within 15-20 minutes at 20°C.

Where more time is required, the material should be cooled before mixing and during use or smaller volume mixes used.
Application

Brush or Roller

Apply the mixed material directly to the prepared surface, using a short-bristled 

brush or roller. Check the wet film thickness on a regular basis ensuring correct coating thickness of a minimum 300 – 500 microns.
| | |
| --- | --- |
| Pot Life | 15 – 20 minutes at 20°C |
Cure Times

At 20°C the applied materials should be allowed to harden for the times indicated below before being subjected to the conditions indicated. These times will be extended at lower temperatures and reduced at higher temperatures:

Movement without load or immersion            2 hours

Light loading                                                           4 hours

Full loading                                                              3 days                        

Immersion                                                               14 days
Coverage

1ltr of fully mixed product will give the following coverage rate – 2m² at 500 microns 

Please note that the coverage rates quoted are theoretical and do not take into consideration the profile or condition of the surface being repaired.
Over-Coat

Times

Minimum – the applied material can be over-coated as soon as it is touch dry. 

Maximum – over-coating time 24 hours

Where the maximum over-coating time is exceeded, the material should be allowed  to harden before being abraded, or flash-blasted and solvent washed to remove any surface contamination
| | |
| --- | --- |
| Health and Safety | Please ensure good practice is always observed during the mixing and application of this product. Protective gloves must be worn during the mixing and application of this product. Before mixing and applying the material please ensure you have read the fully detailed Material Safety Data Sheet. |
Legal Notice

The data contained within this Technical Data Sheet is furnished for information only and is believed to be reliable at the time of issue. We cannot assume responsibility for results obtained by others over whose methods we have no control.

It is the responsibility of the customer to determine the products suitability for use. Maxkote accepts no liability arising out of the use of this information or the product described herein.
TECHNICAL DATA
MAXLINE 100 – POTABLE WATER COATING
Appearance
Base
Activator
Mixed
Blue or light grey thixotropic liquid
Amber liquid
Blue or light grey Thixotropic liquid
Mixing Ratio
By Weight
By Volume
3.25:1
3:1
Density
Base
Activator
Mixed
1.31
1.22
1.29
Solids Content
100%
Sag Resisitance
Brush grade:Nil at
Nil at: 750 microns
Usable Life
10°C
20°C
30°C


25-35 minutes
15-20 minutes
8-10 minutes


Coverage
The material should be applied by target thickness of 500 microns per coat




2 sqm/ ltr
Cure Times
Movement without load or immersion:
Light loading:
Full loading/water immersion:
Chemical Contact:
2 hours
8 hours
3 days
14 days
Storage Life
Unopened and stored in dry conditions (15-30°C)
2 years
Adhesion
Tensile Shear to ASTM D1002 on abrasive blasted mild steel with 75 micron profile
169kg/cm² 2400psi
Cathodic Disbondment
(British Gas CW6 and FW0028 Draft methods)

Pass
Corrosion Resistance
Tested to ASTM B117
5000 hours
Flexibility
(British Gas FW0028 Draft method)
3% Strain at 20°C – PASS
3% Strain at 5°C – PASS
3% Strain at 0°C
ASTM D522
Pass
Pass
Pass
Pass
Hardness
Shore D to ASTM D2240
80
Water Resistance
(British Gas CW6 and FW0028 Draft methods)
Pass at 50°C
Impact Resistance
(British Gas CW6) 15 Joules (BS EN 10290)

23°C 8.6 Joules
5°C 6.1 Joules
Adhesion – Resistance to Removal
(BS EN 10290)

23°C rating 1
60°C rating 2
Adhesion – Pull Off Test
(BS EN 10290)

23°C 175kg/ cm²
60°C 73kg/ cm²

(ASTM D4541) 214kg/ cm²
Adhesion – Immersion in
Tap Water
(BS EN 10290)
Rating 3
Electrical Insulation
Resistance
(BS EN 10290)
8.4 X 10⁹

Indentation Resistance
(BS EN 10290)
23°C 0.1mm
60°C approx. 15%
Flexibility
(BS EN 10290)
Pass
Elongation
(BS EN 10290)
14.5%

Abrasion Resistance
(ASTM D4060)
90mgm weight loss per 1000 cycles
1kg load – CS17 wheel

Heat Resistance
Suitable for use in immersed conditions at temperatures up to:
Suitable for use in dry conditions at temperatures up to dependant on load:
70°C
120°C
Chemical Resistance
At 20°C product resists attack by a wide variety of inorganic acids, alkalies, salts and organic media
Acetic Acid 10%
Benzoic Acid 15%
Caster Oil
Cyclohexane
Ethyl Alcohol 50%
Formic Acid 10%
Fuel Oil
Glycerine
Hydrochloric Acid 20%
Isopropanol
Lactic Acid 20%
Mineral Oil
Nitric Acid 10%
Phosphoric Acid 50%
Potassium Hydroxide 10%
Sodium Carbonate 10%
Sodium Hydroxide 10%
Sulphuric Acid 50%
White Spirit

MSDS
MAXCERAM 300 – EPOXY CERAMIC EFFICIENCY COATING
Additional information
| | |
| --- | --- |
| Weight | 2.2 kg |
| Unit Size | |
| Colour | |
| Mixing Ratio | 3:1 By Volume, 3.25:1 By Weight |
| Number of Coats | 2 |
| Pot Life @ 20°C | 20 Mins |
Related Products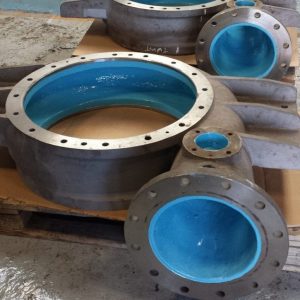 £

79.50 –

£

201.40 Excl VAT